Brightspace Pulse App
Available for iPhone, Android and BlackBerry

Brightspace Pulse is an app that helps students find out what's new and what's next. They can use it to stay up to date and prepared by unifying course calendars, assignments, grades, and news during the busiest times.
Download it for free and stay connected wherever you go.
More time studying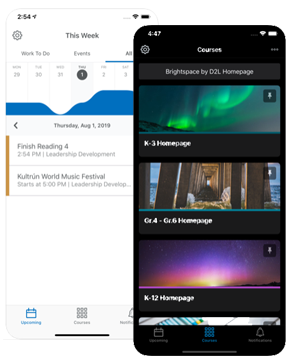 With a quick glance, students can check their courses to see the readings, assignments, and tests that are coming up. They can even add their own personal milestones.
Less time organizing
Students can make better decisions about how to handle their workload, submit assignments, and prepare for test - all while keeping the stress level low.
Always up to date
Real-time alerts tell students when classes are cancelled, rooms are moved, or new grades are available. With grade notifications, students can choose when and where to check them.