Course Home
Course Home is the first page you visit when you enter a course, as shown below. Similar to My Home, it also contains widgets, tool links on the navbar, and resources that enable you to access your personal information, account settings, and course specific content.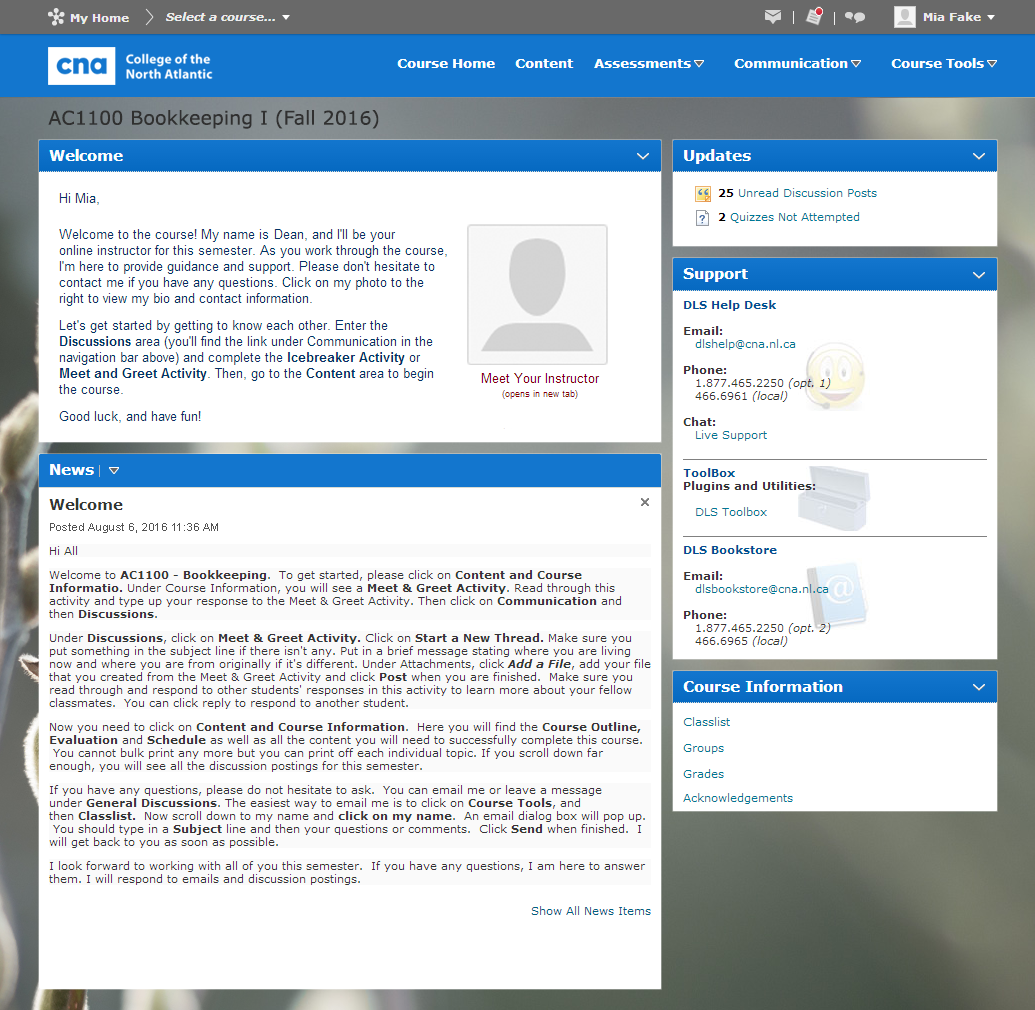 The Course Home Navbar is your main navigation tool within a course. It displays the course name and provides relevant tools and resources.
Content: The Content area provides access to course materials, such as course outline, schedule, etc.
Assessments: The Assessments area provides access to Dropbox, Grades, Quizzes, and Self Assessments.

Dropbox: The dropbox enables you to submit assignments, eliminating the need to mail, fax, or email.
Grades: Grades allow you to check your grades on assignments and tests.
Quizzes: Allows you to take a quiz, review your results, and see class statistics for a quiz.
Self Assessments: Allows students to test their knowledge of the course material, however, student responses are not graded.
Surveys: May be used to seek opinions and assess user satisfaction.

Communication: The assessment area provides access to Dropbox, Grades, Quizzes, and Self Assessments.

Blog: Use the Blog to post and respond to questions, engage in discussions, and share opinions and comments with other users. Blog entries can be public or private.
Chat: Real-time, text-based tool used to brainstorm ideas, have a discussion, or organize a study group.
Discussions: The Discussions area allows you to post, read, and reply to messages on different topics, ask questions, share files, or work with your peers on assignments and homework.
Email: Email allows you to send and receive messages from within Desire2Learn.
Locker: Use the Locker tool to upload and store files from your computer to D2L. Personal lockers are kept private, while the Group locker allows you to collaborate on files with others.
Online Rooms: Blackboard Collaborate is a live web conferencing platform that allows you to interact with your instructor and classmates using video, two-way audio, text messaging, a shared whiteboard and more.

Course Tools: This area provides access to Dropbox, Grades, Quizzes, and Self Assessments.

Checklist: A checklist highlights important or required assignments, readings, or other items to complete.
Classlist: The classlist allows you to view your instructor(s) and other students enrolled in your course, send email or pager messages, and view shared locker files.
Competencies: Competencies allow you view your level of acheivement in the course(s).
Rubrics: Rubrics are an assessment tool used to evaluate an activity or item.
The remainder of the Course Home page contains widgets which contain links to various tools. These include Welcome, News, Bookmarks, Course Information and Support.
Welcome: A welcoming message from your instructor with access to the Instructor's Bio Page.
News (Course): The News widget communicates important updates and information from your instructor.
Bookmarks: This widget is used to bookmark pages in course content.
Course Information: Contains links to important course information such as your course outline, schedule, etc.
Support: Contains links to the DL Help Desk, Bookstore, and Toolbox page.